A Step-by-Step Guide to Agricultural Investment in Turkey
As a knowledgeable investor, you have most likely already researched the available possibilities on the market, which range from real estate to stock markets. However, carefully choosing where to make your next investment in an era of enormous economic turmoil has never been more crucial. The agricultural real estate sector presents an intriguing and highly lucrative possibility if you have medium- to long-term investing goals. For the foreseeable future, agricultural investment is expected to be profitable, and keeping your portfolio balanced with assets that hedge against inflation can help you avoid unanticipated price surges. But how can you enter the world of agriculture investment? 
The passionate and experienced experts at Invest4Land bring you this step-by-step guide to agricultural investment in Turkey. 
Who is Invest4Land?
Agriculture is a particular industry that needs specific expertise, technology, and experience to make a significant difference for the most outstanding outcomes. Invest4Land is a family enamored with fertile lands in Turkey with decades of experience in agriculture and the investing industry. We combine our passion for the land with our expertise in modern and sustainable farming practices to bring our clients a seamless agricultural investment model. Today, this family of 250 experts continues to grow with our expanding agriculture production.
What does Invest4Land do?
As Europe's first agricultural real estate development company, we have created a freehold agricultural land model for buying agricultural land in Turkey with management assurance for high commodity value harvest. Our professional team brings exciting offerings of agricultural land for sale in Turkey, where we manage the farmland for our investors to produce a highly sought-after commodity- walnuts. In addition, we develop novel methods for contemporary agriculture, constantly putting the environment and society at the center of our activities. Our professional team, global operating knowledge, and decades of agricultural investment make all stages of investing hassle-free and straightforward. 
A well-managed agricultural system is the first quality you seek before investing in a professional farmland investing firm, and this is something we always succeed in delivering. As one of the best business opportunities in Turkey for foreigners, our agricultural investment model is robust and comprehensive. Moreover, by investing in agricultural real estate in Turkey, you can also be eligible for a Turkish passport through investment, a fantastic benefit for international investors.
The Initial Agricultural Investment Process
It's essential for us at Invest4Land that our clients make the right choice. That's why our agricultural investment process starts with excellent communication and detailed reports. Our investment advisors will provide background information on our organization, currently available projects, the land size, and the investment's viability with a thorough due diligence report. 
Once a potential has had time to consider the options and made a wise choice to invest in farmland with Invest4Land, a 10% fee is needed to reserve the land project they feel is best suited. After that, the contracts are reviewed, and the payment schedule is mapped out. Each agricultural investment has two agreements, one for acquiring the land and one for administrating the land. Any foreign investors can complete the title deed transfer remotely if payment is made in total upfront.
The Agricultural Investment Management Process
Firstly, we select the most viable land for your agricultural investment, secure the water source and install a modern drip irrigation system. This step is followed by preparing the power supply and installing solar panels to support your land operations sustainably. After the groundwork is completed, we plant the walnut seedlings with precision and nurture your growing investment by maintaining professional cultivation. 
Once the trees have matured, which usually takes around three years, we prepare and harvest your walnut crops. The crops are brought to our state-of-the-art walnut processing factory, dedicated to our investors, and prepared for sale. Finally, we distribute the harvested walnuts on your behalf, selling them to national and international buyers and transfer your profits directly to your account. You receive regular updates from our experts on how your crops flourish so you can experience the joy of watching your agricultural investment grow while we take all the stress out of the equation.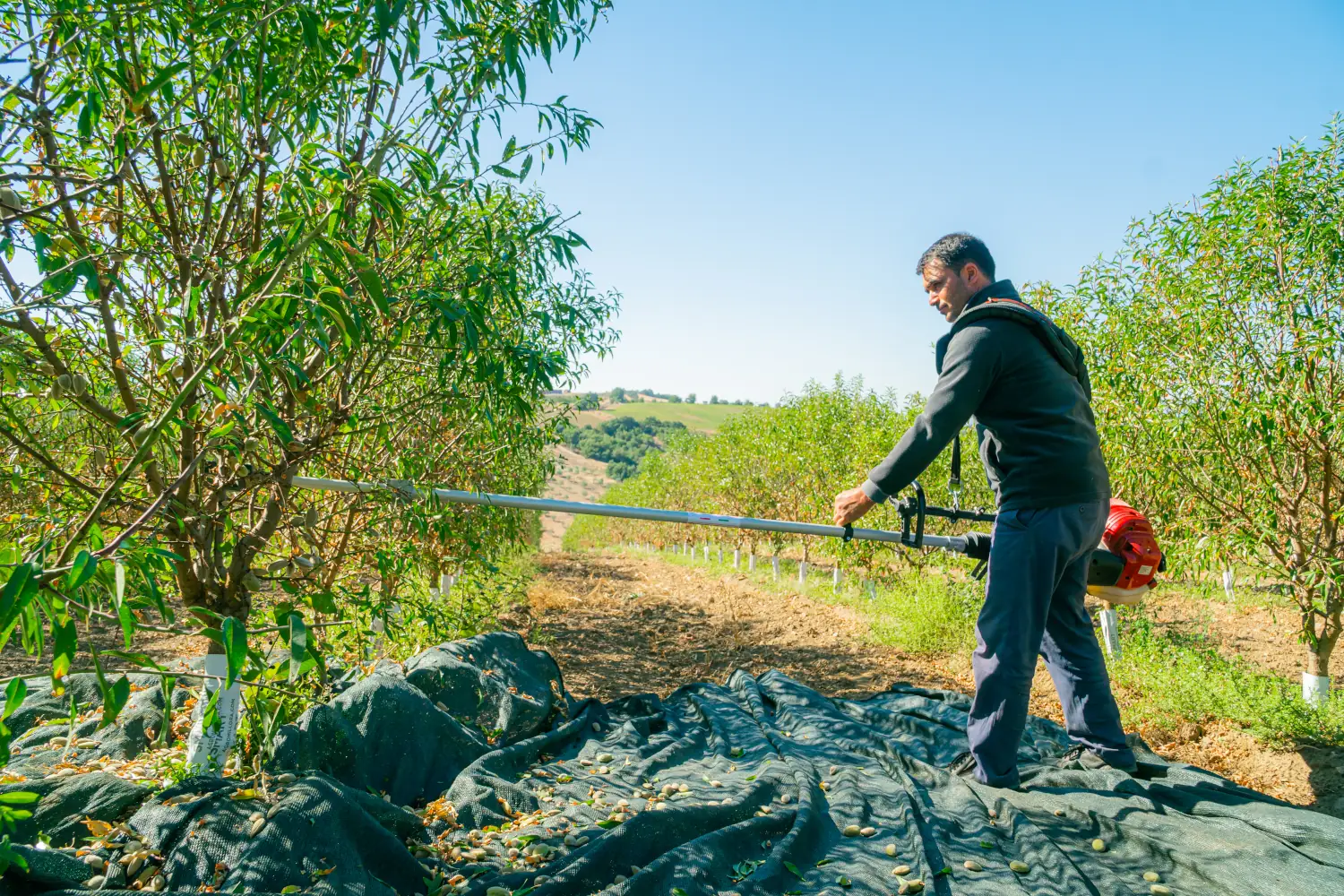 What is the Aim of Invest4Land?
The goal of Invest4Land is to successfully make a beneficial impact on investors' success, the environment, and the future. We consider the trends influencing our clients, communities, the environment, and agriculture and plan how our work can positively impact the agribusiness world for generations to come. We are devoted to providing excellence in everything we do and working to make agro-investment better every day. 
Agricultural Investment in Walnuts
Walnut cultivation has a long history in Turkey, especially in the Manisa region, which offers the best ecological conditions for walnut growing. The country's fertile soil, availability of sufficient water, pleasant climate, and skilled farmers all help to support a robust agricultural investment. Moreover, due to the high nut consumption in Turkey, when you invest in walnut plantations, there is a sufficiently high demand on the domestic market to spur growth. It's simple because walnut farms are an extremely lucrative and reliable alternative investment. However, you will still need a dependable partner to move forward and launch your agricultural investment project. We provide you with security and knowledge at Invest4land.
A Winning Agricultural Investment with Invest4Land
With our contemporary, sustainable, and practical farming methodology, the family at Invest4land anticipates the agricultural industry's advantages and challenges for the future and modifies our management system accordingly. To produce the most effective final product, we will follow the benefits of modern agriculture in the future. As a result, our agricultural lands in Turkey are cultivating a variety of farm goods on its fruitful terrain, including walnuts, almonds, olives, and lavender. Unlock the potential of agricultural investment with Invest4Land by contacting our expert consultants today.
Concept Investment Construction Industry and Trade Ltd. Sti. All rights of this content prepared by ("API Group") belong to API Group. These rights are protected and the partial or complete copying, reproduction, distribution, processing or use of the content in any way without permission and without reference will result in legal and criminal liability of individuals.